Latest Thank ABBA For The Music Press Reviews
PALACE THEATRE, NEWARK



There were plenty of Dancing Queens ­— and Kings ­— in the audience for a tribute to ABBA at Newark's Palace Theatre.
Thank ABBA For The Music had people dancing and singing along to the classic hits in a two-hour tribute.
As the song says: "Friday night and the lights are low, looking out for a place to go, where they play the right music" ­— and Thank Abba For The Music was certainly the right place to be.
Tiger was the opening song, capturing the essence of one of pop history's most iconic bands, and it set the bar high for the rest of the show.
In a blink of an eye, performers would change outfits and songs to give the public all they wanted ­— a memorable throwback.
The interactive video projection of ABBA's original members was always in the background supporting the seven-piece live band
The show featured some of ABBA's greatest hits, such as Mamma Mia, Gimme! Gimme! Gimme! Super Trouper, Dancing Queen and Lay All Your Love On Me.
It is safe to say that in the second part of the concert, you could count a handful of people sitting down as everyone was on their feet, singing and dancing.
The interaction with the public was absolutely incredible, from guess the song, to shout-outs to people in the audience, to a sing all together.
It is 100% a tribute that promises a lot and does not let you down.

Marta Tavares, Newark Advertiser
September 2022


---
HALL FOR CORNWALL, TRURO
Review following "Thank ABBA For The Music" show at Hall for Cornwall in Truro, Cornwall.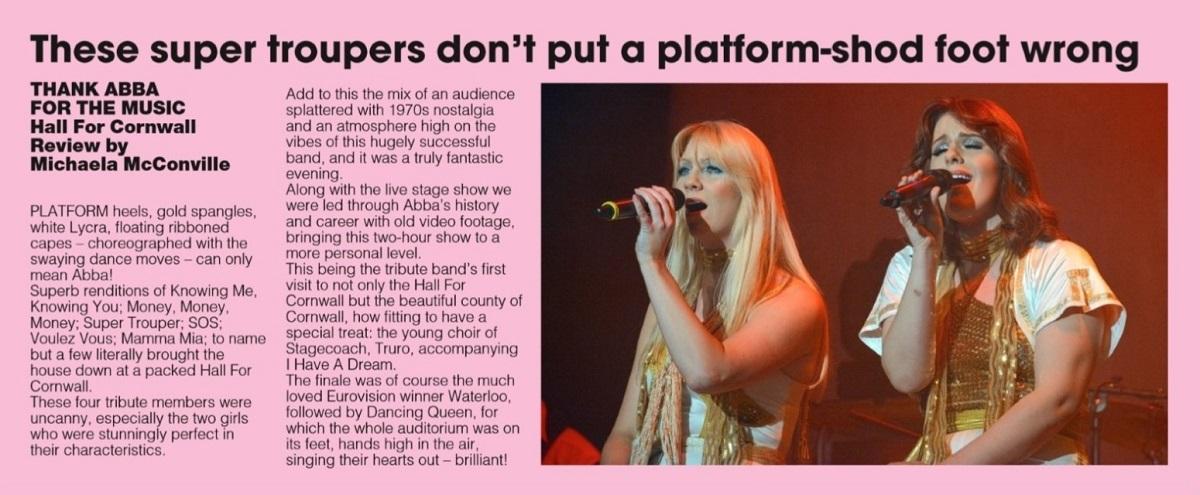 ---
CARNEGIE THEATRE & ARTS CENTRE, CUMBRIA
Glowing review from the "Times & Star" following Thank ABBA For The Music show at the Carnegie Theatre & Arts Centre in Cumbria. Thanks to everyone who made this such a memorable evening.