Thank ABBA For The Music - Online Store
Please note we can only dispatch products to the United Kingdom. All prices include postage and packing.
Secure payments are made via Paypal.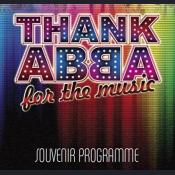 Thank ABBA For The Music - Official Souvenir Programme
Twenty-eight full colour pages including lots of photographs plus additional information about cast members and band, ABBA, etc.

£6.95 each


The Ultimate Feel-Good
Party-Style
ABBA Tribute Concert
leading abba tribute
show - uk theatre
dates throughout 2018
Complete with
Live Band & Interactive
Video Projection
Thank ABBA For The Music features high quality digital audio systems to deliver the best possible sound. A spectacular lighting rig with moving lights and special effects combined with large screen video and backdrop makes the theatre really come alive.